On my mother's side:
Her maternal grandparents were: John Watson, whose family came from Scotland and, Agnes Taylor who, according to the family kōrero, was a adopted from Ngāti Mutunga o Wharekauri (an iwi of the Chatham Islands).
My mother's father's great-grandfather came from Germany. His family were gypsies and his aunt was mistress to Kaiser Wilhelm and bore him a child.
On my father's side: We are related to Ned Kelly, the infamous Australian out-law. Two cousins left Ireland. One, Ned Kelly's father, settled in Australia and the other, my great, great, grand-father came to New Zealand and was the start of the line of Kellys.
So, I am an 8th Ngati Porou, an 8th Scottish, a 16th Irish and a 16th German and the rest kiwi. I love being a New Zealander!
---
(Below is a slightly abridged version from John's website. Please go here to read the full account).
Having to correct other people's best efforts at the spelling of our name is a common family experience as is then having no quick answer to the question where the "unusual" spelling came from. It was easy to acknowledge it was a spelling mistake, but finding real answers has been quite a story.
Beyond knowing that my grandfather, the late Bill Roxborogh's father, was Charles Henry Roxborogh who had died in Christchurch in 1960, there was for many years little to go on. Neither Bill nor his younger brother Harry had ever had any contact with their father who had disappeared out of their lives by the time Harry was born in 1916. In the late 50s Bill's wife Boyd tried ringing the one person in a New Zealand telephone book with a likely name, but he had a "u" in Roxborogh and denied having any children. Years of searching by different members of the family got nowhere until my mother Cathie Roxborogh suggested looking up Charles Henry's World War I military records. Up until that point there was contradictory information on a number of marriage certificates and there was no birth certificate. The death certificate from 1960 stated he was born in Glasgow and that he had come to New Zealand 46 years earlier. Searches in the UK and telephone books in Australia, New Zealand and the States were also fruitless.
Although the military records provided further contradictory information and red herrings of their own, they indicated that around the time Bill and Harry were born Charles Henry had used a number of aliases, and that he had had a police record. The next step was to go to the police archives. These gave details of charges and provided a reasonably handsome looking photograph. I put together all the evidence on a spreadsheet to puzzle over the patterns and look for ideas, but it still appeared that Charles' real name was Roxborogh and that he had some association with Ashburton.
Later on a visit to Christchurch I visited the genealogy room in the Canterbury Public Library and came across a record of the marriage of a Charles William Chapman to Mary Elizabeth Wainwright on 6 January 1891. The 1914 marriage certificate for Charles Henry Roxborogh had given his parents as William Charles Roxborogh and Elizabeth (Wainwright). Chapman was a known alias. Might it in fact be his real name?
Charles' other three marriage certificates have variations in the names given for his parents. In 1917 they were Charles William Roxborough and Ellen Winton, in 1933 William Harry Roxborough and Mary Wainwright, and in 1946 William Charles Roxborough and Elizabeth Mary Wainwright. The 1917 marriage was bigamous and the more likely than usual to be fictious, but Wainwright is is the name of his mother on the other three, legal, marriages. The 1891 date of the Chapman-Wainwright marriage was within a possible range given that his ages on the marriage certificates and death certificate suggested a number of possible years for his date of birth from 1891 to 1898.
It did seem likely that Charles Henry's actual family name was Chapman and that he was not born in Scotland but somewhere in Christchurch or Canterbury.
This was exciting news as far as it went. I was then helped by Members of the Ashburton association of genealogists familiar with work on the Chapman family. They put me in touch with Chapman family researchers and a few months later I received a copy of the family tree for Charles William and Mary Elizabeth Chapman. This shows the birth of Charles Henry on 6 April 1893. There is now a birth certificate and some baby and childhood photos to add to that from the police files.
A large part of the riddle was now solved, though of course questions remain and more work is needed to fill out the story. We can now say that as a family name, the spelling "Roxborogh" is unique to the known New Zealand descendants of Charles Henry Chapman, aka Roxborogh and Roxborough, and Lizzie Maud Woolley and their two sons, William (Bill) and Harry. We do not know why he became the black sheep of the family, how he got into a life of crime and deception, or why he refused to acknowledge his adult sons whose own difficulties were compounded by his silence....
Charles Henry Roxborogh (1893-1960) father of Bill and Harry Roxborogh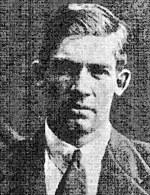 Charles was the second child of Charles William Chapman and Mary Elizabeth Wainwright. He was born in the Wairiri Valley near Hororata, Canterbury, 6 April 1893 while his parents were resident at Glentunnel and he died in Christchurch on 5 October 1960. His older brother Joseph was born in Lincoln in 1892, and his younger siblings were David, Ada, William, Edith, Gilbert, Archie and Ernest.
Places associated with his early years are mostly in the Selwyn District of the Canterbury Plains just south of Christchurch.
His marriage to Lizzie Maud Woolley in 1914 when he adopted the name Roxborogh was the first of four. He was recruited from borstal in Invercargill in January 1917 to serve in the First World War. He trained in Trentham and was sent overseas in June 1918 ("E" Company, 39th Reinforcements) after a further period in prison for bigamy. He was again in prison after the war, remarried again twice, and spent his last years in Christchurch. He probably worked as a jobbing builder. He was remembered as charming but there were darker sides to his character.
The information given on his World War I military records saying that his father was Charles Henry Roxborough and that his mother was Ellen Lewis Roxborough who lived in Racecourse Road Ashburton is false, yet pointed to an actual situation, like many other details. Neither Bill nor Harry ever discovered the information about him now available from army and police records, nor did they ever see a photograph of him before they died. Charles had no other known children....
---
John Roxborogh, married to Jenny, is the eldest son of Bill Roxborogh. Tania Roxborogh's husband Phillip, is Bill's youngest son.
As well as our children, we rejoice in having a number of siblings and half-siblings, and their children, who share our family name, its spelling, and the mystery of its origin. There are also Harry's descendants who share the story. We think it is a good name! If your spelling of Roxborogh really does have no "u" in it and is not Roxborough, Rosborough, or Roxburgh, we are almost certainly related. If your name is Chapman it is also possible!
As things have come to light we realise how important it is to understand and accept the past to move on in our own lives. Perhaps some of Charles and Lizzie's inheritance can be put to good use, along with insight into the vagaries of human nature. Many of us in the family share a Christian faith, have to grown to understand how complicated life is for many people, and recognise that acceptance and healing is part of what Jesus was about....
© John Roxborogh
---
2nd October 2006
At first, I felt incredibly guilty: here I was, given a sunny office complete with space and computer and resources and all I had to do was, well, write!
I wondered, was I supposed to keep the frantic hours and pace of my colleagues from the corridors of Level 2 of the Tower Block or could I sneak off for a coffee with another writer, my sister, my husband, an English teacher from the local high school?
I kept being assured that I was 'okay' to do what I needed; that my time was my own so… I set myself the ambitious goal (initially) of 'six books finished by the end of six months' and then, 'must write 1000 words a day'. Hmmmm. Well, I have pretty much been able to meet the latter but the former… didn't quite bank on:
17 school visits (locally and in the greater Otago/Southland district)
42 hours of workshops with children on writing
7 lectures to pre-service teachers (both Otago and Southland campuses)
4 presentations to Otago/Southland pre-service teachers on the teaching of writing
1 presentation to the academic staff at the Dunedin campus (this was videoed)
a week in Auckland for the Storylines Tour
a week in Nelson participating in the SLANZA conference
organizing and participating in a Writing Conference for Otago/Southland Teachers featuring Bill Manhire, Wayne Mills, Sandy Mckay, Jenny Powell-Chalmers, Murray Gadd and myself
Judging the BNZ Katherine Mansfield Short Story Awards
.....
So, in spite of the above busyness, I have managed to finish two novels: the YA one that I submitted to the Dunedin College of Education as my application for the residency (which is 46,000 words – my biggest children's novel to date), and also another novel for younger children (Space Gum). Thanks to the male members of staff who so generously shared their naughty school boy tricks (esp Darryl and Philip).
Someone asked me to repeat the input/output stats I gave to the academic staff so I shamefacedly do that here (please don't judge me, please…)
Output:
Words written: 62,000
Presentations: 24
Workshops: 42 hours
Schools visited: 17
Emails sent: 715
Txts sent: I have no idea (my memory keeps getting clogged do I have to delete)
Input:
220 coffees (including 13 free from Fluid)
132 biscuits from the staff room ( 34 of them chocolate)
23 business lunches at Vino Vena, Umbrellos and St Lees
Bottles of wine – I'm not telling
Publishing results?
3 rejections (boo hoo) and 1 contract to publish.
Because I have taken this time off to write, I realize that this is what I want to do the most and that has helped us as a family to make the decision for me to take the brave step into the world of full-time writing and resign from my teaching position. We are to move away from Auckland and live in a smaller community so that I am able to continue to write without the financial demands of living in a big city – we have purchased a house in Dunedin and will be moving here early 2007 to live. I will continue to write full time and be available to run writing workshops and participate in the writer in schools programme.
Receiving the residency not only affirmed my worth and ability as a writer but gave me the confidence to focus on improving my craft. I have read a number of excellent books on writing and attending some workshops by some our esteemed and established writers. I hope in the years to come, the work that I did in this office will be evidenced to the wider community in the form of published books and pots of money.
Kia kaha Tania Roxborogh
---
Might be considered crazy/of some interest type things I've done:
I had a gastric bypass in 2003 and lost half my body weight
I was on the television programme Holmes arguing with the then minister of Education, Trevor Mallard and the head of the PPTA.
I sat Bursary English with my Y13 class and I got 90%. I only did it cos I'd not done it when I was at school and my students challenged me.
When I was 36, my children worked out that we lived at number 36 Emlyn Place and that the house we lived in was the 36th house I've lived in (we'd been there for six years)
I've been on two episodes of Shortland Street (along with both my children)
I've appeared in an episode of Xena, Warrior Princess
I've been in a couple of commercials.
I rode my motorbike from Palmerston North to Wellington and then onto Oponaki.
I worked in a chicken processing plant making sausages and dog meat and processed chicken rolls.
I travelled from the middle of the South Island to Whangarei in the North Island with my cat hidden in my bag. We caught the train and travelled north on the Southerner without incident. However, when I tried to board the Picton Ferry, the pursuer suggested I hand over my very large carry on bag. I resisted. He became suspicious (no doubt believing I was concealing drugs). There was a few tense moments of to-ing and fro-ing until, bless her, Cucumber poked her pretty tabby head out of a gap in the bag and meowed. Instantly, the burly employee softened and reached out for her and the bag (she should not have been, clearly, on board) promising to take care of her. The trip to Auckland on the Northener was a different matter as it was the Overnighter. Night time. Cat prowling time. Cucumber escaped a few times. Once I saw her patting the reflected lights as we came into Taihape and heard a small boy's voice call: Mum, look. A cat! Later, I awoke to spy her pouncing down the aisle trying to grab the flickers of light which jumped around the carriage. Then, I spied the warden coming down, torch weaving to and fro. I squeezed my eyes shut and hoped he wouldn't notice. Seems, Cucumber had disappeared. Three hours later, after she'd found me again and had crept onto my lap, he was back, keys jangling. This, clearly, was too much for my feline. She pounced on the cluster of keys hanging from his left pocket and clung there trying to subdue the shiny, noisy and dangerous weapons. I feigned sleep. A moment later I saw, peeking through closed lids, him gently lift my pussy cat from his trousers and place her on my lap.
I once snuck onto the Picton Ferry because I had no money. I was 17
In the early 1980s, I hitch-hiked from Palmerston North to Christchurch.
I rode my horse to school.
I was in foster care for 18 months.
I ran away from home when I was in the fifth form (Year 11).
When I was ten, I slaughtered a sheep (no big deal – many kids do this. BTW it was my pet lamb but that was okay.)
We once lived on a farm which required opening 52 gates from the main road until we got to the farm house. We also had 17 dogs and 14 horses. No motorbikes, though.
---
In 1986, I was a keen but somewhat talentless poet and I sent Alistair some of my poems. He wrote back with this response:
You have a lot to learn – but you probably knew that. If you don't, you haven't a chance….This is not to say that you have no talent. Something comes through that I find attractive, but you need to work much harder…'
Two weeks later, another letter arrived. It seems Meg had told him he was 'unnecessarily hard on [my] poems' though he wasn't 'convinced [he] was.' Still, he offered to look at my work and 'try to be more positive and helpful.'
Twenty years on, while I was Children's Writer in Residence at the Dunedin College of Education, I came across his two letters in my papers. Immediately, I wrote to him and told him that I was now a writer (but not poetry) and outlined some of my successes.
He wrote me a lovely response (on the same type of letter pad as well) including this: I congratulate you in being wise to realise you future didn't lie in poetry but in prose and you have done very well as a writer, and it seems, a teacher too.
So touched have I been by these letters, I got them framed and they sit in pride of place in my living room so that I can be reminded of the generous spirit of a great poet who was not too high and mighty nor too busy to send messages to a young writer.
Rest in peace, dear man.