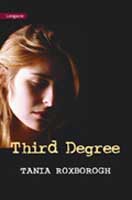 Third Degree
Ruth is in her first year at university when she comes across an obscure headline that acts as a catalyst for traumatic memories of her childhood. These memories drive her to seek answers to some questions that have troubled her for nearly a decade: past and present interleave powerfully in the compelling novel.
As a ten-year-old, Ruth accidentally runs into her father who is carrying a large pot of hot water. She is horrifically scalded, and suffers third degree burns. She is rushed from their isolated farm-house to the city hospital and goes into intensive care. We spend the next month with her as she endures hours of treatment as the nurses help her heal. With Ruth, we get to know some of the other children in the ward and the routines of the New Zealand hospital system in the 1970s - including the use of these children for an experimental antibiotic.
When Ruth becomes very ill following the 'tests', she is perturbed by the continuing absence of her mother. Because there are no mirrors in the ward, it is not until Ruth returns home that she discovers the full extent of her injuries. Nineteen-year-old Ruth finds she has to confront the effect her accident and the scarring have had on her and her relationship with her mother.
Ruth's developing relationship with her friend Anton allows her the freedom to begin to accept her scars, both physical and emotional, and she starts to mend the brokenness of her relationship with her mother.
Back